Jay fled his cube at HP in 1998 and began a head-long dive into all things entertainment and events. He still uses a lot of the fine corporate culture lessons he learned at HP, but now as the General Manager of the Bas Bleu Theatre Company in Fort Collins, CO. His primary performances now are at events and in commercials, but Jay has done it all....
(If you arrived here searching for information on Jay's marketing and management skills, visit his substantially more formal site www.JayBrownColorado.com)
With over 1000 shows as professional standup comedian, 600 shows mixing live sound, 250 theatrical performances, and 150 comedy events as producer and MC, Jay has been an integral part of over 2000 performances. Toss in untold nights performing at comedy open mics, the time as technical director and board member for The Acting Company in Loveland, and employment as the General Manager for the largest dinner theater in Colorado, and the number of hours around the entertainment industry has made a career.
Jay has been the featured comedic actor in 10 commercials, including the 9News #RespecttheOrange campaign, promoting Denver Broncos Pre-Season Game with the San Francisco 49ers where he appeared with Miles, the Broncos mascot. Jay has done commercials for McDonalds, Starz (national commercial "Choice Cuts") and spots for "The Video Professor". He has probably been most seen in an on-going series of 8 different spots for Len Lyall Chevrolet in Denver, starting in 2012. He is represented by Maximum Talent in Denver for his commercial work.
Jay was a touring comedian for 10 years, performing over 1000 shows in 30 states, and was the featured performer at the Comcast/Comedy Central Laugh-Off. He was also the New Talent Coordinator and one of the booking agents for Wits End Comedy Club in Denver. Jay also produced over 40 comedy nights in 4 cities over 4 years with his company, Maximum Comedy.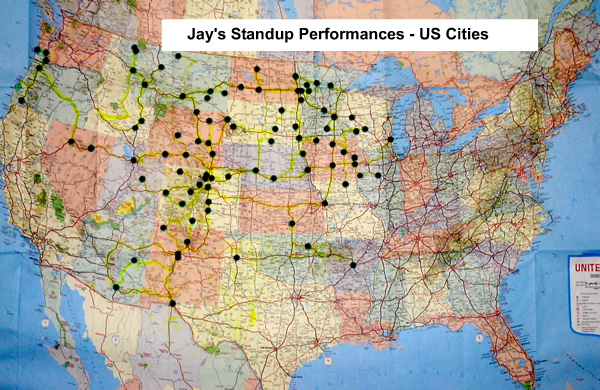 Jay has been seen on many different Colorado stages, most recently in a staged reading of "Middletown" at Bas Bleu Theatre. Prior to that he played Father Mark in Midtown Arts Center's "Tony N' Tina's Wedding" and before that was his second production of "Compleat Works of William Shakespeare (Abridged)", this time in 25 performances for Nonesuch Theater in Fort Collins. For a period of time, Jay was a Frankie specialist, having played the asthmatic leader of The Plaids in "Forever Plaid" in 32 performances for Nonesuch Theater and also in "Plaid Tidings" for 43 performances in two separate productions, also for Nonesuch Theater. Jay played "The Padre" in OpenStage's "Man of La Mancha". He played the title role in "Scapino", Jess/Jay in "Compleat Works of William Shakespeare (Abridged)", Linus in "You're a Good Man, Charlie Brown", Tom/Phyllis/Leslie in" Sylvia", Gary in "I Hate Hamlet", and Manley in "The Housekeeper, all for The Acting Company in Loveland. Jay has performed with the Greeley Stampede Troupe, The Mostlies, Larimer Chorale, and the original cast of Moonlighting Teachers. A full listing is below.
Jay has spent considerable time behind the scenes, too, having designed sound for over 50 shows and lighting for a dozen. He has also worked as a professional stage hand at the Fort Collins Lincoln Center and has designed and/or operated sound/lights at:
Jay is currently the General Manager of the Bas Bleu Theatre Company in Fort Collins, CO. Jay was the General Manager and Marketing Manager for the Candlelight Dinner Playhouse for a year. He was on the board of The Acting Company in Loveland for 6 years and also served as their Marketing Director and Technical Director.
Jay is a published rap composer (Rap-Rap-Rapsody for Cottonwood Press, available www.prufrock.com and amazon.com). He also recorded and mastered the recording. Jay also recorded and mastered two comedy CD's, one for Comedian Jeff Harms and the second for David Bubltiz.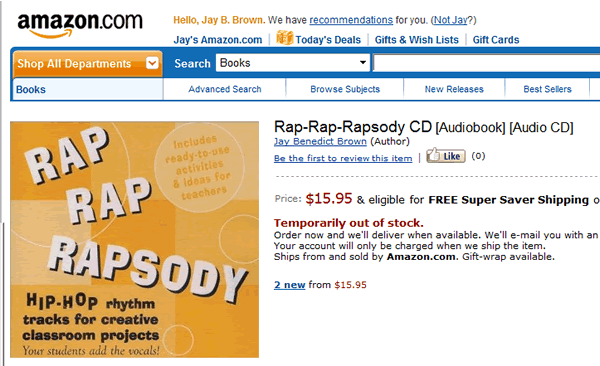 Middletown


Prologue/Landscaper/
Janitor

Bas Bleu Theatre
Director:Ann Whiteman


The Dinner Detective


Detective Ricky Brown

Midtown Arts Center


Tony N' Tina's Wedding
(36 performances)

Father Mark

Midtown Arts Center
Director:Tony Lauria

The Compleat Works of William
Shakespeare (Abridged)
(25 performances)

Jess/Jay
(Also Technical Director)

Nonesuch Theater Company
Director:Nick Turner

Plaid Tidings
(20 performances)

Frankie
(Also Technical Director)

Nonesuch Theatre Company
Director:Nick Turner

Forever Plaid
(32 performances)

Frankie
(Also Technical Director)

Nonesuch Theatre Company
Director:Scott Wright

Man of la Mancha
(15 performances)

Padre

OpenStage Theater Company
Director:Wendy Moore

Plaid Tidings
(23 performances)

Frankie

Nonesuch Theatre Company
Director:Nick Turner

Don Juan in Chicago
(staged reading)

Mephistopheles

The Acting Company in Loveland
Director:Nancy Roy

Sylvia

Tom,Phyllis, Leslie

The Acting Company in Loveland
Director:Nancy Roy

You're a Good Man, Charlie Brown

Linus

The Acting Company in Loveland
Director:Nancy Roy

Scapino

Scapino

The Acting Company in Loveland
Director:Nancy Roy

The Compleat Works of William
Shakespeare (Abridged)

Jess/Jay

The Acting Company in Loveland
Director:Jim Keaten

I Hate Hamlet

Gary

The Acting Company in Loveland
Director:Andy Segal

The Housekeeper

Manley

The Acting Company in Loveland
Director:Nancy Roy

Arsenic and Old Lace

Officer Rooney

The Acting Company in Loveland
Director:Martha Palmer

Return Engagements

Raymond

Greeley Stampede Troupe
Director:Nancy Roy

Merry Wives of Windsor

Dr. Caius

Greeley Stampede Troupe
Director:Noel Johnston

Moonlighting Teachers (2 years)

Player, Writer

Musical Sketch Comedy Group

The Mostlies (4 years)

Player, Writer, Director

Sketch Comedy Group
Hairspray (40 performances)
Sound Designer, Sound Engineer

Midtown Arts Center
Director:John Bronston

Sound of Music (40 performances)


Sound Designer, Sound Engineer

Midtown Arts Center
Director:Ian Beutler

Avenue Q (30 performances)


Sound Designer, Sound Engineer

Midtown Arts Center
Director:Tom Berger

White Christmas (40 performances)


Sound Designer, Sound Engineer

Midtown Arts Center
Director:Ian Beutler

Bye, Bye Birdie (40 performances)


Sound Designer, Sound Engineer

Candlelight Dinner Playhouse
Director:Peter Muller

Will Rogers Follies (40 performances)


Sound Designer, Sound Engineer

Candlelight Dinner Playhouse
Director:Nancy Roy

Oliver! (40 performances)


Sound Designer, Sound Engineer

Candlelight Dinner Playhouse
Director:Peter Muller

Joseph and the Amazing Technicolor Dreamcoat (40 performances)


Sound Designer, Sound Engineer

Candlelight Dinner Playhouse
Director:Brian Burron

My Fair Lady (40 performances)


Sound Designer, Sound Engineer

Candlelight Dinner Playhouse
Director:Steven Cogswell

Scrooge (40 performances)


Sound Designer, Sound Engineer

Candlelight Dinner Playhouse
Director:Scott Wright

Phantom
(44 performances with 16 wireless mics and 7 piece orchestra)

Sound Designer, Sound Engineer

Candlelight Dinner Playhouse
Director:Steven Cogswell

Wizard of Oz
(48 performances with 16 wireless mics and 6 piece orchestra)

Sound Designer, Sound Engineer

Candlelight Dinner Playhouse
Director:Peter Muller

The Compleat Works of William
Shakespeare (Abridged)
(25 performances)

Technical Director

Nonesuch Theater Company
Director:Nick Turner

Honky Tonk Laundry
(36 performances)

Stage Manager, House Manager, Technical Director, Light/Sound Op

Nonesuch Theatre Company
Director:Nancy Roy

Plaid Tidings
(20 performances)

Technical Director

Nonesuch Theatre Company
Director:Nick Turner

Forever Plaid
(32 performances)

Technical Director

Nonesuch Theatre Company
Director:Scott Wright

Greater Tuna
(15 performances)

Stage Manager, House Manager, Light/Sound Op

Nonesuch Theatre Company
Director:Nick Turner

Lipstick
(2 years, 7 performances)

Sound Designer, Sound Operator

Musical Sketch Comedy
Director:Cheri Thurston

The Mostlies
(10 years, 70 performances)

Sound Designer, Sound Operator

Musical Parody Sketch Comedy Group (21 year history)

Sylvia

Sound Designer

The Acting Company in Loveland
Director:Nancy Roy

You're a Good Man, Charlie Brown

Sound Designer

The Acting Company in Loveland
Director:Nancy Roy

Scapino

Sound Designer, Lighting Designer

The Acting Company in Loveland
Director:Nancy Roy

The Compleat Works of William
Shakespeare (Abridged)

Sound Designer, Lighting Designer

The Acting Company in Loveland
Director:Jim Keaten

I Hate Hamlet

Sound Designer

The Acting Company in Loveland
Director:Andy Segal

The Housekeeper

Sound Designer

The Acting Company in Loveland
Director:Nancy Roy

Arsenic and Old Lace

Sound Designer

The Acting Company in Loveland
Director:Martha Palmer

Merry Wives of Windsor

Sound Designer

Greeley Stampede Troupe
Director:Noel Johnston

The Murder Room

Sound Designer

The Acting Company in Loveland
Director:Nancy Roy

The Odd Couple

Sound Designer

The Acting Company in Loveland
Director:Joy Vernon

Come Back to the Five and Dime, Jimmy Dean, Jimmy Dean

Sound Designer

The Acting Company in Loveland
Director:Mike Curtis

Hold Me

Sound Designer

The Acting Company in Loveland
Director:Martha Palmer

Fools

Sound Designer

The Acting Company in Loveland
Director:Nancy Roy

Over the River and Through the Woods
(2 separate productions)

Sound Designer, Lighting Designer

The Acting Company in Loveland
Director:Nancy Roy

Mornings at Seven

Sound Designer, Lighting Designer

The Acting Company in Loveland
Director:Andy Segal

God's Favorite

Sound Designer, Lighting Designer

The Acting Company in Loveland
Director:Nancy Roy

The Fourth Wall

Sound Designer

The Acting Company in Loveland
Director:Martha Palmer

Eleemosynary

Sound Designer, Lighting Designer

The Acting Company in Loveland
Director:Nancy Roy

Inspecting Carol

Sound Designer

The Acting Company in Loveland
Director:Martha Palmer

All I Really Need to Know I Learned in Kindergarten

Sound Designer, Lighting Designer,
Set Designer

The Acting Company in Loveland
Director:Nancy Roy

Pure Piaf

Sound Designer, Sound Operator, Light Operator, Lighting Designer,
Set Designer

The Acting Company in Loveland in Conjunction with Alex Ryer


Rounding Third

Sound Designer

The Acting Company in Loveland
Director:Martha Palmer

The Fun with Funerals
(staged reading)

Director

The Acting Company in Loveland
Director:Jay Benedict Brown

Moonlighting Teachers (2 years)

Sound Designer

Musical Sketch Comedy Group